Glazed Roast Pork Tenderloin
Bergy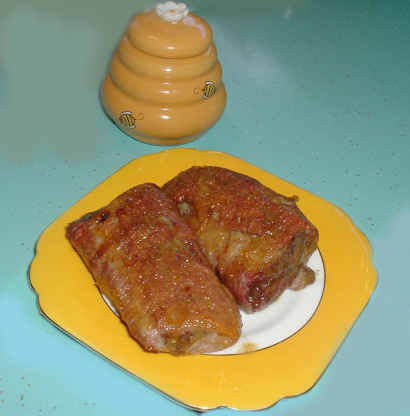 An easy, tasty, low fat roast pork tenderloin with a honey-mustard-citrus-spice glaze. From Prevention's The Healthy Cook.

This was fabulous! I used the zest and juice of a whole orange and put it on the roast when I put it in the oven. The flavor sank into the meat. YUM! The only thing I would do differently next time is to add less allspice (I don't measure anything) because I added just a little too much.
Combine in a small bowl Dijon mustard, honey, orange juice, zest, cinnamon and allspice.
Set aside.
Place the pork tenderloin on a rack in a shallow roasting pan.
Roast in a preheated 325 F oven for 30-45 minutes, or until pork reaches an internal temperature of 160 F.
During the last 10 minutes of cooking, brush the pork occasionally with the mustard mixture.
Remove pork from oven.
Let stand for 5 minutes before cutting crosswise into slices and serving.