Glazed Parsnips and Carrots
Rita1652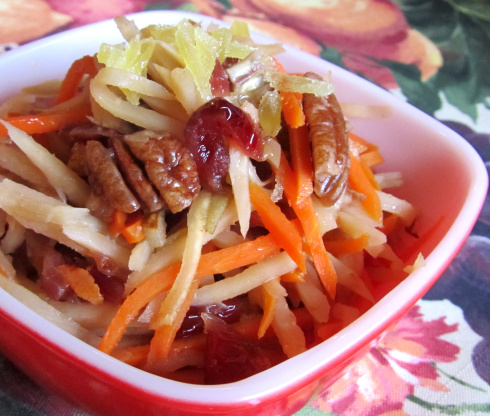 I'm forever looking for something new and this is a real hit! The look is really up to date and it delivers flavor that is that is so perfect for fall.

This would make a great Thanksgiving side dish! Sweet, chewy and crunchy with a nice tang from the OJ. A touch of salt would do this great! Unless you use salt pecans! As for the pecans I did rough chop them. I cut the pear into matchsticks using only one pear (one just because I didn`t read the ingredients right) to match the parsnips and carrots. Loved the sweetness! Garnished with Recipe #102933. Thanks!
In a large nonstick skillet combine parsnips, carrots, orange juice, dried cranberries, and ginger.
Bring to boiling; reduce heat to medium.
Cook, uncovered, for 7 to 8 minutes or until vegetables are crisp-tender and most of the liquid has evaporated, stirring occasionally.
Stir pears, pecans, brown sugar, and butter into mixture in skillet.
Cook, uncovered, for 2 to 3 minutes more or until vegetables are glazed.