Glazed Orange-Hoisin Chicken
Prep 45 mins
Cook 55 mins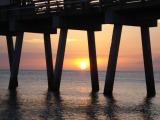 This is a delicious sweet and savory chicken recipe made in the oven. I like to use thighs and legs but you can use chicken breasts as well...but it's best with the skin on. Allow at least 30 minutes for marinading, 2 hours is best. **** Note that this is not a marinade, but a sauce that you bake the chicken it. Do not throw out all of the delicious sauce!! Use it over the chicken and/or rice as you serve.****
Directions
Combine ingredients up to marmalade in a large bowl and mix well.
Wash and pat dry the chicken legs and thighs.
Preheat oven to 375°F.
Place the chicken in a large shallow roasting pan or baking dish Pour the hoisin marmalade sauce over the top. Bake for 45 to 50 minutes, or until the chicken is done. (Time also depends on how plump your legs and thighs are - the fatter, the longer the time).
Baste with juices one or two times during the baking process.
When finished, remove chicken from roasting pan onto serving platter. Spoon some sauce over it and garnish with the scallion. Serve immediately.
Reviews
Most Helpful
Really good marinade. I'm not a cook and decided to try this. I used 3 bone in chicken breasts since the family likes white meat. Left it in the oven for only 45 mins and they came out juice. I also omitted the chili paste for the kids. Really easy and quick. Definitely would let it marinade longer, left it in about an hour. Thanks for the recipe!!
Great flavor. I used it on some chicken tenders and grilled them quickly.

I had a few drumsticks to use up so checked some recipes hoping for something different.
Found this recipe and it sounded really good. I made it even though I didn't have Hoisin Sauce, chili paste or dark Sesame oil. Marinated maybe 1/2 hour.
Had all the rest of the ingred. Just winged it with chili powder, olive oil, chopped sweet onion that I put in the marinade. Guessed on amounts but it still tasted wonderful. Can't wait until I have all the proper ingred. .
Next time I will take some of the skin off to cut down of fat.
Served with Basmati rice and a salad and put a little of the sauce on the rice. Thought I died and went to heaven....So, so good!!!