Glazed Orange-Hoisin Chicken
Pam-I-Am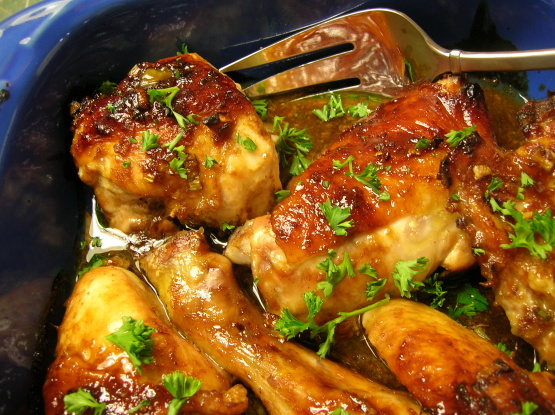 This is a delicious sweet and savory chicken recipe originally created by Diane Rossen Worthington in her book, "The California Cook." It is made in the oven. I like to use thighs and legs but you can use chicken breasts as well...but it's best with the skin on. Allow at least 30 minutes for marinading, 2 hours is best. **** Note that this is not a marinade, but a sauce that you bake the chicken it. Do not throw out all of the delicious sauce!! Use it over the chicken and/or rice as you serve.**** LOVE this recipe but really DISLIKE the fact that the original creator of it was not given credit. This recipe comes from Diane Rossen Worthington from her fabulous book, "The California Cook." This recipe (and her cookbook) have been a favorite in our family for years. Everything in it is great. The original recipe calls for 2 TBSP of ginger and this one calls for 1 TBSP. I suggest making the recipe with its intended 2 TBSPs of ginger, which is not at all overpowering and adds a perfect hint of ginger. It's an awesome recipe. Here's a link to this recipe on another website, where the original author, Diane Rossen Worthington, is given her due credit: http://eat.at/swap/forum16/10_Glazed_Orange_Hoisin_Chicken "Pam I Am" - next time, please give credit where credit is due when choosing not to post an original recipe.
Combine ingredients up to marmalade in a large bowl and mix well.
Wash and pat dry the chicken legs and thighs.
Preheat oven to 375°F.
Place the chicken in a large shallow roasting pan or baking dish Pour the hoisin marmalade sauce over the top. Bake for 45 to 50 minutes, or until the chicken is done. (Time also depends on how plump your legs and thighs are - the fatter, the longer the time).
Baste with juices one or two times during the baking process.
When finished, remove chicken from roasting pan onto serving platter. Spoon some sauce over it and garnish with the scallion. Serve immediately.