michEgan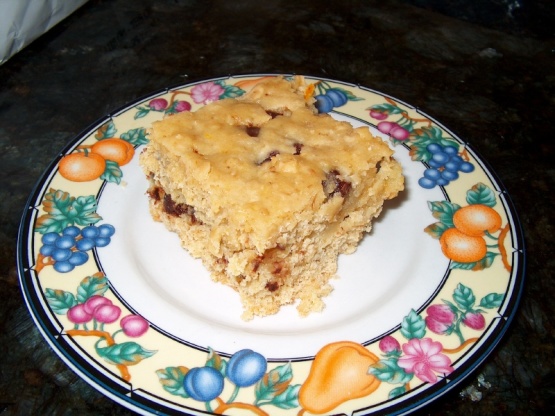 A very yummy bar. I try and convince myself the oatmeal and the orange juice makes them "healthy". Do not omit the glaze; it really "makes" this bar.

Oh this bar is so yummy! I was very surprised how good it was. Moist too! The glaze is perfect on it. The only thing I did alittle different is, I let the oatmeal soak with the milk for awhile then added it to the mix with the eggs. I will make this agin! Thanks for a great recipe!!!
Preheat oven to 375 degrees F.
Grease a 9"X9" square pan.
Sift together flour, baking soda and salt.
Set aside.
Mix together shortening, brown sugar and egg.
Stir in milk.
Stir in flour mixture.
Stir in oats and chocolate chips.
Spread in prepared pan.
Bake approximately 30 minutes.
About four or five minutes before brownies are done, combine orange juice and sugar in a pan.
Bring to a boil.
Add orange rind.
When brownies are done and still hot, poke top with a fork a few times and pour hot orange glaze all over.
Let cool and cut into bars.