BarbryT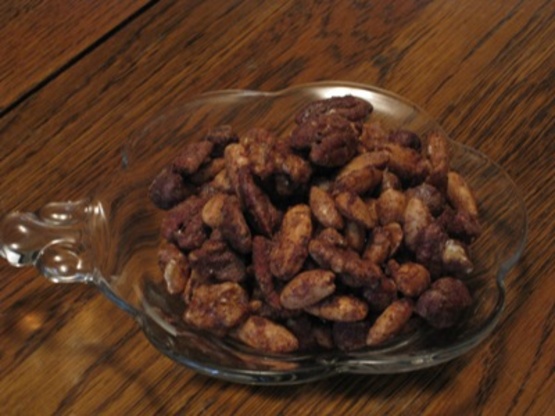 This recipe is a great combination of sweet and savory. Use any kind of nuts you like; my favorite combination is cashews, almonds and pecan halves. Be sure to use fresh spices. It makes a huge difference. I make this for Christmas gifts. It ships well and everyone likes it!

Made these for DH who loves the mix of sweet, salty and spicy, and he told me to rate it with 5 stars and make them again soon LOL. As he hates nutmeg, I used some ground ginger instead which evidently was good. Also I used erythritol instead of sugar which worked perfectly. Thanks for sharing this recipe!
Made for Denise's win on football pool 2010 week 5.
Preheat oven to 250.
Combine sugar, cinnamon, allspice, seasoned salt, nutmeg, and black pepper in a large bowl. Set aside.
Beat egg white until foamy. Add nuts, tossing to coat. Add to spice mixture tossing to coat evenly.
Spread nuts on a greased baking sheet (a baking stone works great for this) in a single layer. Bake one hour, stirring once. Cool slightly on the baking sheet and break apart, if need be. Cool completely and then store in an airtight container up to two weeks.