lets.eat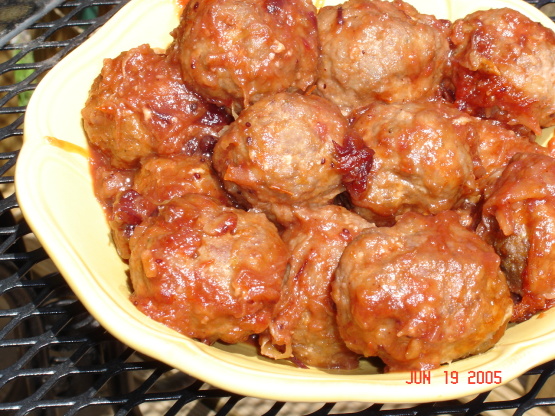 These are really delicious and addictive!

This was easy to put together the other morning. I made it the morning of our church potluck and baked it at church. Next time I make this I'm going to use my blender and add the jellied cranberry sauce, water, brown sugar and chili sauce and mix it in the blender. Then stir in sauerkraut by hand before pouring over the meatballs. I might try making this the next time without using the chili sauce and see how I like it. I got 44 small meatballs using my small meatball scoop. I'd guess that they were about 1/8 of a cup, since I don't know what size you call that scoop. Younger children may not like this because of the sauerkraut, you know kids. Oh yes, I also pressed the sauerkraut between paper towels after I had drained it. Thanks for the recipe, this would be great on a buffet table for appetizers.
Combine ground beef, breadcrumbs, eggs and onion soup. Form into meatballs. Place meatballs into a cooking oil sprayed 13x9x2 baking pan.
In a medium size bowl mix remaining ingredients;pour mixture over meatballs.
Bake uncovered at 350 degrees Fahrenheit for 45 minutes.