chiclet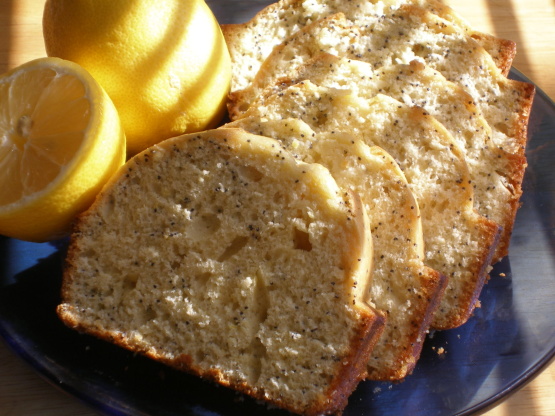 One of my favorite quick breads, cuz I love lemon. The preparation time doesn't include cooling time.

Great recipe that didn't have the really high fat levels of other lemon loaf recipes. I did mess up and add the 3 Tbs of lemon juice to the bread batter (oops) so it was a bit more tart than it was probably supposed to be, but I loved it and so did my neighbor. We both agreed there is no such thing as too much lemon so the extra lemon stays! I made it into 3 mini loaves and someone might have eaten almost half of one within the first half hour, but I'm not sure who that might have been. *whistles while walking away*
Cream the butter with the sugar.
Add the egg and lemon peel and beat well.
Combine the flour, baking powder and salt.
Add the flour mixture to the creamed mixture alternately with milk, beating well after each addition.
Spoon the batter into a well greased 9 X 5-inch loaf pan.
Bake at 350°F about 55 minutes or until a fork or toothpick inserted comes out clean.
Shortly before removing the bread from the oven, make the glaze: combine the powdered sugar and lemon juice and stir until the sugar dissolves.
Pour the glaze over the bread while it's still in the pan and hot.
Let stand 20 min before turning out on a rack, then let cool before slicing.