lazyme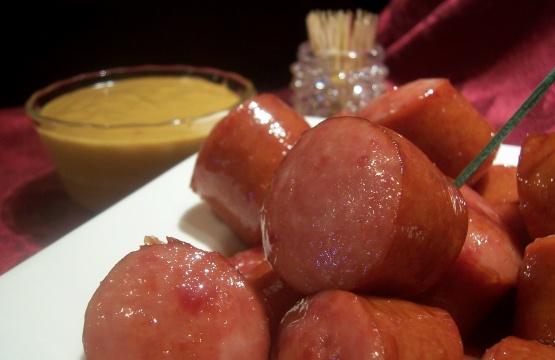 This is a great appetizer for holiday buffets. So simple to make.

Made this using Reeds Ginger Brew, which is a very sweet, gingery ginger ale, and it turned out great! To those whose ginger ale did not reduce - a higher sugar content probably helps, and then you just have to boil off almost all of the water and carmelize the sugar, no matter how long that takes. (made this a second time with a different ginger ale, and the results were not as good, even though I simmered the liquid until it was almost gone). Using a higher temperature worked for me, as I kept an eye on the pan and stirred frequently. The kielbasa was glazed in thick ginger goodness! One thing I may try next time is reducing the ginger ale a little before adding the sausage slices, so they won't get overcooked. This is a great alternative to the ubiquitous bbq "party weenies" that always get brought to parties around here. Thanks!
Cut kielbasa into 2-inch slices. Place in a large skillet with the ginger ale (regular, this does not work with diet ginger ale).
Bring to boil, then reduce heat to medium. Do not cover pan.
After 15 to 20 minutes, ginger ale will be reduced and start to caramelize.
WATCH CAREFULLY because you don't want it to burn.
At this point, keep stirring until chunks are glazed.
Serve on a platter with toothpicks inserted. They are sticky and yummy!