Hey Jude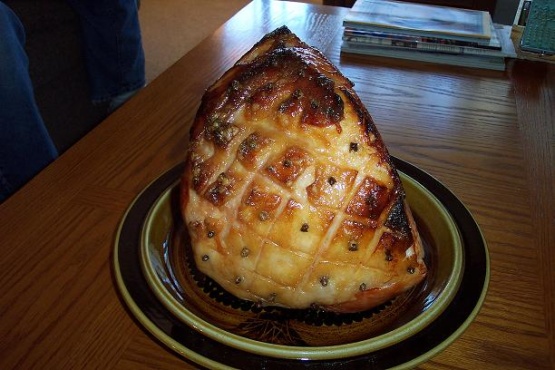 Got this recipe when I was a teenager and spent many a meal eating this at a friends house! I just loved it and have never glazed my hams any other way. I quite often halve the glaze when cooking a small ham and it works just fine.

I made this for Easter this year and it was delicious. I ended up doing the recipe twice: the day before Easter (for friends) and on Easter (for family). I used a bone-in, uncooked ham both times. The first time I cooked it uncovered at 325 degrees to an internal temp of 160 and it came out really dry. The second time I cooked it at the same temp, but I covered it loosely with aluminum foil until it reached 140 degrees, then I uncovered it until it got to 160. I wrapped it up in aluminum foil and put it in a cooler and it stayed there for about two hours while we drove to my parents' place. I don't know how much keeping the foil on it had to do with the results, but this time it was really moist and delicious. Will definitely do this one again, with the minor tweaks mentioned above.
Score ham with diamonds, insert whole cloves, bake at 325- 350 for about 1-1 1/2 hours (I add a little water to the bottom of the baking dish).
baste often with glaze, watching carefully that the outside does not start to burn. ( I usually bake a little first and then start basting with the glaze).
(I usually purchase pre-cooked boneless.) If desired serve with the glaze drizzled on slices, or even put the sauce in a bowl for the table and everyone can help themselves!) Yummy!