Glazed & Grilled Flank Steak
loof751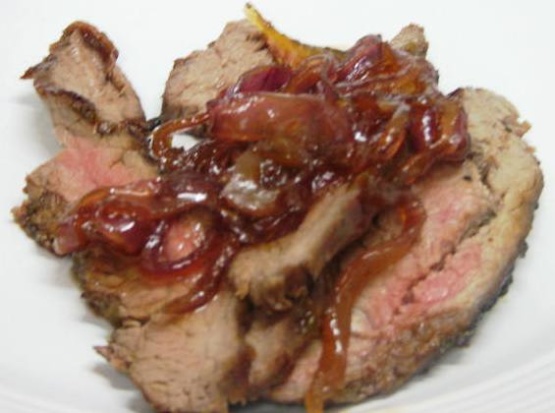 A great recipe from the Morton Salt folks! Grilled right under the broiler!

Really yummy! My onions were green because my pepper jelly was, but it was still very good. Easy too. We served it with tortillas and cole slaw (I put Avacado in my slaw). It was easy to prepare and a hit with my gang! This recipe is a definite keeper. Thanks for sharing Sharon. :)
Place flank steak flat on large shallow pan. Cut both sides of beef into diamond pattern 1/8th inch deep.
In medium saucepan, combine pepper jelly, garlic, kosher salt and Worcestershire sauce. Heat mixture to simmer, stirring constantly until jelly melts and all ingredients are heated through. Reserve two-thirds of glaze. Brush both sides of steak with remaining one third of the glaze. Cover and marinate in refrigerator 30 minutes.
In large skillet, sauté onions in oil until softened; add 1/2 of the reserved glaze and continue to sauté until onions are a deep golden brown and caramelized. Keep warm.
Set oven to broil. Broil beef 2 to 3 inches from heat until brown, about 5 minutes. Turn beef; brush with remaining glaze and broil 5 minutes longer.
Cut beef across the grain at slanted angle into thin slices; serve with caramelized onions. Enjoy!