Derf2440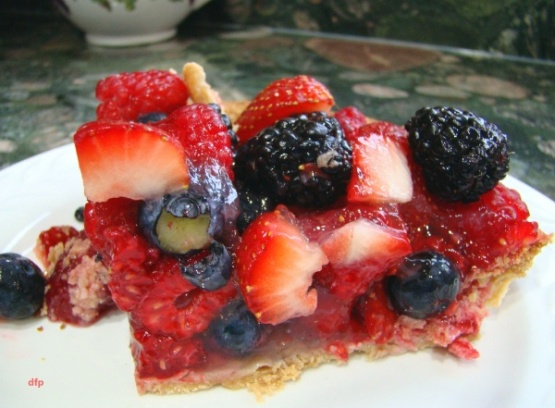 This is an absolutely scrumptious pie, based on one originally published in The Vancouver Sun. With its fresh summer berries piled high in a baked pie shell and a glaze poured over top, it makes a nice change from traditional pies, where the fruit is cooked. It makes a wonderful summer dessert with a dollop of sweetened whipped cream on top. (I am from Canada, but for you Americans, it would make a wonderful 4th of July dessert (strawberries, blueberries AND whipped cream) (smiles). The original recipe in The Sun called for fresh raspberries (2 cups for the glaze and 6 cups for the filling), and it's wonderful with that too, but raspberry season is very short, and this strawberry/blueberry filling is wonderful too. I have yet to try it with blackberries, but might do that this summer too .... NEW NOTE from Jacquelyn: I have had some questions about the 18-inch pie crust called for .... this was not what I wrote! I wrote two 9-inch pie crusts (as the recipe makes two pies), and the site must have done that automatically. So people .... it's not one 18-inch pie, but two 9-inch ones. Hope that clarifies things.

Loved it. Used strawberries, blueberries, cherries, and about 4 peaches. Perfect summer dessert.
It is also nice that the recipe makes 2 pies. Thanks,
Jan
First, bake the deep dish pie shells according to the instructions on the box, then let cool as you prepare the rest of the recipe.
To make glaze, crush 2 cups strawberries; add cold water to make 2 cups juice mixture. Pour into small heavy saucepan and place over medium-high heat; bring to a boil. Reduce heat and simmer for 3 minutes; strain and add cold water to make 2 cups.
In heavy saucepan, combine sugar, cornstarch and salt. Gradually whisk in strawberry juice mixture and bring to a boil over medium heat, stirring constantly. Cook for 1 minute or until mixture is thick, stirring constantly. Cool glaze slightly.
Generously fill baked pie shells with the fresh strawberries and blueberries. Divide the glaze in half, then pour over the fruit in each pie. Put in refrigerator for 2 to 3 hours or until glaze is chilled and set.
Just before serving, whip cream with some icing sugar and a splash of vanilla to sweeten. Enjoy this fantastic summer dessert! Everyone will ask for seconds.