ChrisF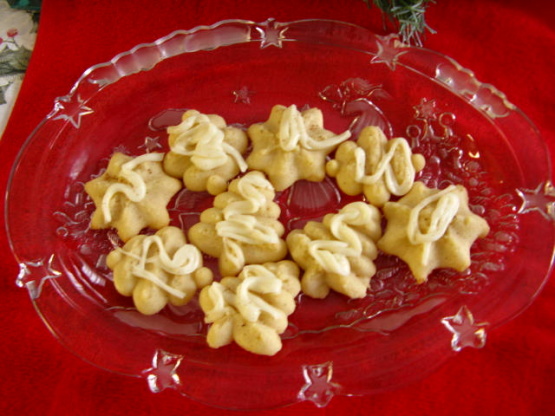 "Just like on a cup of eggnog, a dusting of nutmeg is scattered over these buttery cookies." YUM!

We added this to out Christmas cookie repertoire last year and I had to come back to find it again because it went over so well! It definitely replaced our previous spritz doughs. Also, we used more rum than called for (maybe double?) because, according to my mother, 'That just isn't enough!'
Heat oven to 350°.
In large bowl, beat sugar and 1 cup butter with mixer on medium speed until fluffy. Beat in vanilla, 2 tsp rum flavor and the egg until smooth. Beat in flour and 1 tsp nutmeg.
Place 1/4 of the dough at a time in cookie press.
On ungreased cookie sheet, form desired shapes with dough.
Bake 6-10 minutes until edges are lightly browned. Cool 1 minute; form desired shapes with dough.
In small bowl, stir all glaze ingredients except nutmeg with spoon until smooth and thin enough to drizzle. Pour mixture into small resealable plastic food-storage bag; cut off tiny corner of bag. Squeeze bag to drizzle glaze on cookies. Before glaze is set, sprinkle 1/2 tsp nutmeg over cookies.