3 Reviews
Made this for supper tonite & it was SOOOOOOO GOOD!!! I did, however, cut the glaze ingredients in half...also, I used Apricot Jam, which I had on hand. Will DEFINATELY make this again! THANKS for sharing!!!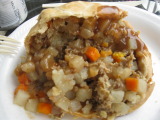 What a fantastic glaze! Sweet and tangy. I went a bit heavy on the Dijon mustard, but that's just because I love it on my corned beef. This was really simple to make and the results are fantastic. Thanx for sharing this recipe!

This is my very favorite corned beef recipe - I make this at least once a year! And I serve it with a side of braised cabbage with cream. MMM! If you don't like boiled cabbage you'd like this!
Glazed Corned Beef (Silver Palate)