Glazed Corned Beef (Silver Palate)

From The Silver Palate. No need to say anything else!
Directions
Place corned beef in large pot and cover with boiling water.
Bring back to boil, lower heat, cover partially, and simmer as slowly as possible for about 3 hours, or until very tender when tested with a fork.
Preheat oven to 350°F
Mix marmalade, mustard and sugar in a bowl until well combined.
When meat is done, remove from pot and drain.
Place meat in ovenproof dish and pour marmalade mixture over, coating thoroughly.
Bake for 30 minutes, or until glaze is crisp and brown. (Mine had to go a few minutes more for the crispy coating -- worth it!).
Serve hot or at room temperature.
Most Helpful
Made this for supper tonite & it was SOOOOOOO GOOD!!! I did, however, cut the glaze ingredients in half...also, I used Apricot Jam, which I had on hand. Will DEFINATELY make this again! THANKS for sharing!!!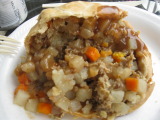 What a fantastic glaze! Sweet and tangy. I went a bit heavy on the Dijon mustard, but that's just because I love it on my corned beef. This was really simple to make and the results are fantastic. Thanx for sharing this recipe!

This is my very favorite corned beef recipe - I make this at least once a year! And I serve it with a side of braised cabbage with cream. MMM! If you don't like boiled cabbage you'd like this!