Glazed Corned Beef Brisket & Veggies
llk2day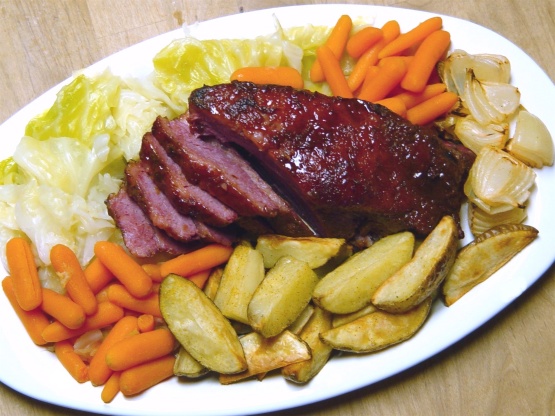 Boiled Corn Beef always good, but this simple addition of a tasty glaze makes it even better. This whole "meal in one" is not that complicated, and can be cooking all at the same time easily. No fuss, and a simple clean-up!

I first tried this recipe last St. Patty's Day and enjoyed the hell out of it!! So much so that I'm going to make it again this year and buy extra brisket so I can do it again when I get the craving for it. I also use the glazed for other cuts of meat too. This is THE BEST Corned Beef Brisket recipe I have ever had. Thanx!
Slow boil Corn Beef Brisket about 3 hours or until fork tender along with spices that come normally packaged with the Corn Beef.
Remove the cooked Brisket and place it in a shallow baking dish lined with tin foil, fatty side up.
Score the fatty side of the Corn Beef.
In a small bowl mix all the glaze ingredients together and spread on the scored Brisket.
Bake in hot oven 400 degrees approx 45 minutes or until the glaze bubbling has almost stopped.
In the mean time get a head start on the veggies.
The cabbage and carrots cooked in slow boiling water until firm tender.
The potato's and onions are placed on a cookie sheet lined with tin foil.
Bake potato's and onions in hot oven 400 degrees 35 minutes, or until potatos and onions are fork tender.
Season potato's and onions with kosher salt or seasoning salt and pepper while hot.
Butter the hot cabbage and carrots if you wish.
Suggestion.
Arranged on a large platter with all the veggies surrounding the hot sliced Corn Beef, this always looks so appetizing-- ENJOY!