Glazed Carrots With Maple Syrup and Sesame Seeds
Linky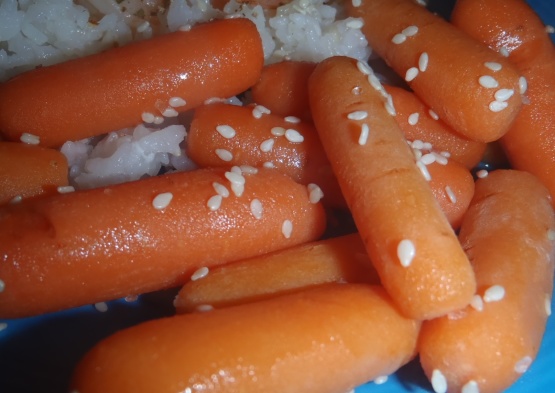 Wanting a quick carrot dish last night, I turned to one of my favourite books, "Linda McCartneys World Of Vegetarian Cooking". As usual she didn't let me down, this was an easy and deliciously tasty offering of carrots in a sweet glaze. The original recipe calls for honey or Maple syrup, I chose to use Maple Syrup, I had NO leftovers! I used the butter option.

Great carrots! Easy to prepare and very flavorful. I used the butter and maple syrup options. Thanks for sharing! CQ2
Put the carrots into a medium pan with half the butter or margarine (25 gr), and half the honey or maple syrup(1 tbsp), and a pinch of salt, then add the water.
Bring to the boil, uncovered, and cook rapidly until the water has all but evaporated, and the carrots are tender, about 8 minutes.
Add the remaining butter or margarine, and the rest of the honey or maple syrup, and cook until a thick syrup forms to coat the carrots, 3 - 4 minutes longer.
Serve sprinkled with the sesame seeds.