Glazed Carrots With Caraway Seeds
gemini08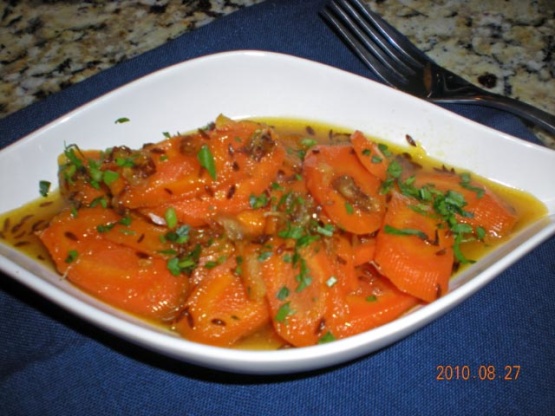 Caraway seeds are very popular in Austria and feature in many recipes, mostly in root vegetables, cabbage and bread. The fragrant seeds blend wonderfully with the sweetness of the carrots and make an excellent side dish to roasts, turkey and game birds. Turnips, parsnips and rutabagas can be prepared and glazed in the same way, adjusting the cooking time as necessary.
Cut the carrots on the bias into 1/4 inch coins.
In a large, dry frying pan, toast the caraway seeds for a few minutes.
Melt the butter in the same pan over medium heat. Add carrots, sugar, salt and pepper to taste.
Stir together and cook for 1 - 2 minutes. Add enough water to barely cover the carrots, raise the heat to high, cover and cook until the water boils and the carrots turn bright orange, ca. 5 minutes. Do not add too much water, the carrots will become mushy if cooked too long.
Uncover and and continue to cook the carrots over medium heat until the water evaporates, another 5 - 7 minutes, allowing the carrots to caramelize in the butter and sugar mixture.
Taste for seasonings, sprinkle with chopped parsley and serve at once.