Bergy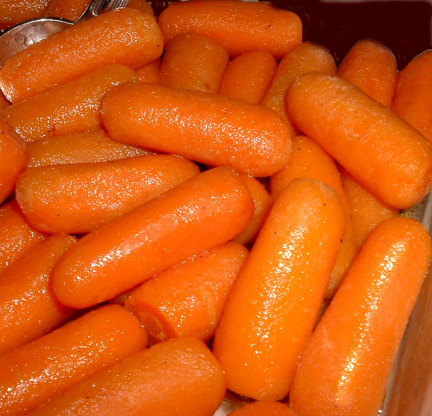 I love carrots. If I remember correctly, this one came from or was adapted from the 1970s cookbook The Vegetarian Epicure. It has sort of a sweet-and-sour taste.
Very good glazed carrots. I made then just like the recipe said. they turned out great, but, had to let them set for awhile, this is not a good idea as the glaze gets runny. The taste is great I will make them again, but will serve right away. Thank you for posting the recipe.
Melt 2 Tbs butter in a medium skillet and add the carrots through salt plus ¾ cup water.
Simmer over medium-low heat, covered, 20 minutes.
Remove cover and raise heat to high.
Cook, stirring often, about 6-8 minutes until nearly all the liquid evaporates.
Add the remaining 1 Tbs butter plus the vinegar through nutmeg.
Lower the heat to medium and cook, stirring constantly, until all the sugar is melted and the glaze is thick enough to coat carrots.
Serve immediately.