Glazed Brussels Sprouts and Carrots With Almonds
teresas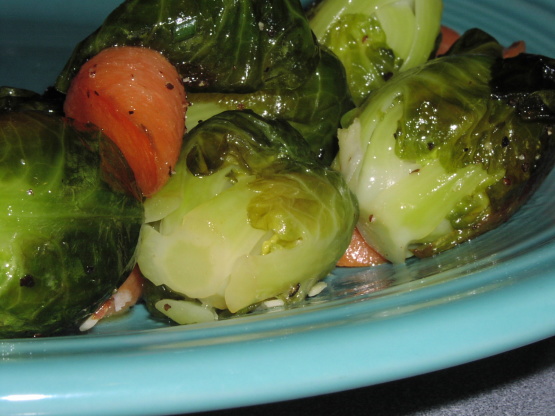 So good! I like Sprouts to start with but dressing them up make them even better! I think this recipe came from the newspaper a long time ago.

Yummy! I would not change a thing. Both DH and I were doing the happy dance with all the wonderful flavors in our sprout dish. I used baby carrots and just cut them in thirds. This has the wonderful sweet and savory flavors that we all crave. Great dish and it will be made often. Thanks for posting. Made for Spring PAC 2011.
Cook sprouts in a large pot of boiling water for 10 minutes.
Add carrots and cook for another 4 minutes.
Drain above.
In a large skillet heat butter with brown sugar and lemon juice.
Add sprouts and carrots and cook, stirring, about 5 minutes, or until vegetables are glazed.
Taste for salt and pepper.
Toss with chives and toasted almonds.