Rita1652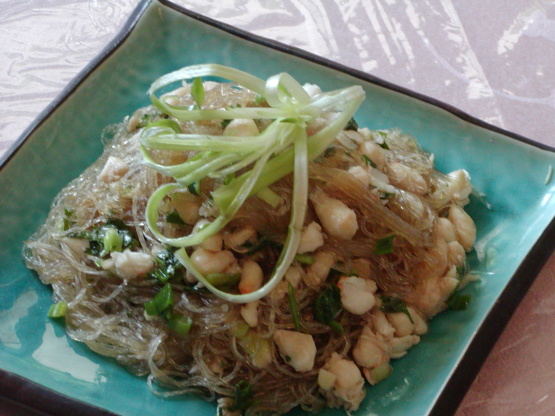 this can be an appetizer, side dish or main course. It's very light, perfect for warm weather, from the NY Times.

:P I was about to post this recipe. I made the dish last sunday, and it turned out great although I didn't have any oyster sauce on hand. One thing though, I found soaking the noodles in hot water a lot more effective.
2

(2 ounce) packagesthin rice noodles (mung bean thread)

2

tablespoons neutral oil, like corn or canola

1

tablespoon minced garlic
1⁄4 cup trimmed and minced scallion

1

cup crabmeat, free of shell
1 1⁄2 tablespoons fish sauce

1

tablespoon soy sauce

2

tablespoons oyster sauce

1

tablespoon sesame oil
fresh cilantro, for garnish.
Cover noodles in warm water for about 10 minutes.
Drain.
Put oil in a wok or large skillet, and turn heat to high.
A minute later, add garlic and half the scallions and, almost immediately, the noodles and crab.
Toss, and stir to mix the ingredients.
Add the sauces, taste, and adjust seasoning as necessary.
Toss with sesame oil and remaining scallions.
Garnish, and serve.