Gladys' Angelic Strawberry Dessert
WiGal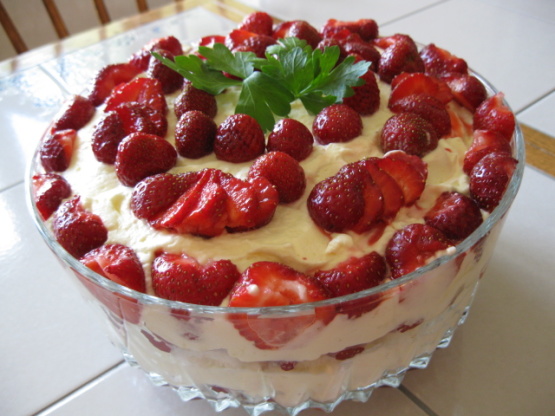 If you are like our family and looking for delicious, beautiful, easy, kid friendly plus a healthier dessert, try my mother's recipe --an old family favorite. This is our tradition for the Fourth of July, and sons request this being served. I tell anyone I serve this to that only angels can eat this:) My adult sons have fought over who gets to lick the bowl clean-they are fun. This is a trifle so you should show it off in a beautiful clear bowl. Sometimes I have used fresh raspberries with a white chocolate pudding instead of vanilla. The time does NOT include the chilling time of 2 hours. I think this could easily be changed to fit diabetic diets. Also, you can set aside some of the pudding mixture, cake, and berries into separate portions and assemble the next day, if you cannot eat the entire recipe the first day. When I do that, I use my individual clear glass bowls to show off. Enjoy and have more!

Very good. I've never assembled one of these types of desserts before, so it wasn't real pretty but sure did taste yummy. Thanks for posting. Tagged for the Potluck Game.
In a large mixing bowl, place pudding, sour cream, and milk.
Mix on low speed for 1 to 2 minutes, or until thick and well mixed.
Fold in whipped cream.
We think it tastes better to slice the berries before putting into the bottom two layers.
In your serving bowl make layers--1/2 of the cake, 1/3 of the strawberries, and 1/2 of the pudding mixture.
Repeat layers.
Arrange last 1/3 strawberries on top.
Cover with plastic wrap.
Chill for 2 hours.