Girl Scout Chocolate Mint Cookies (Copycat)
alligirl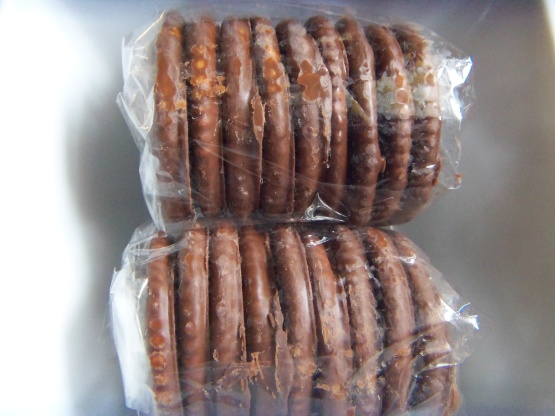 I've never been able to tell the difference between this imposter and the real deal. Easy, Easy, Easy!! I actually overheard this recipe at a meeting when I was working as a journalist. I tried it, and it's a winner! You might be able to get more than 70 cookies out of this recipe.

These are so easy and good :) For ease of dipping, dip only half of the cracker, shaking off excess chocolate, then put on waxed paper, when set, simply pick up and dip the other half. I don't get so messy that way!
473.18

ml mint chocolate chips

70

Ritz crackers
Melt the mint chocolate chips in the microwave.
Dip crackers, one at a time, into the chocolate.
Lay on wax paper to set.
Store in airtight container (if there's any left, that is).