ChefLee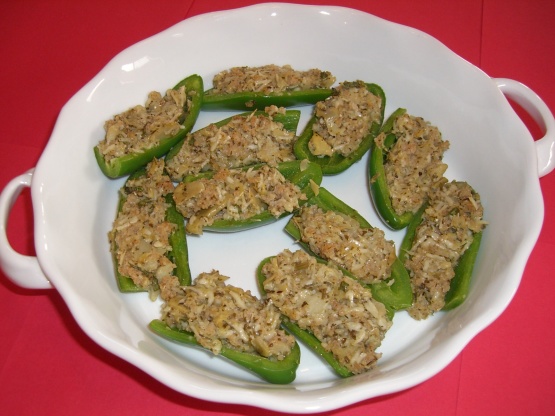 Fresh jalapenos are one of my favorite ingredients to cook with. I made up this stuffed jalapeno recipe with a different twist from the cream cheese or cheddar cheese poppers. Hope you like them!

Excellent flavor. I could not find artichoke "antipasto" but I did find Roland's artichoke salad in a 12 oz jar. I was not sure if I should use all of the liquid in the jarred artichoke salad so I set that aside and used it as needed to moisten. Also, I pulsed the artichoke salad a few times in my mini Cusinart and then mixed the ingredients in the bowl. I made this for PAC Spring 2008. Great appetizer!
Preheat oven to 350 degrees F.
Cut your jalapenos in half lengthwise and remove seeds and white flesh. (use food handling gloves, if possible, to keep from getting the capsaicin in your eyes!).
In a medium bowl; mix the antipasto, basil, parmesan cheese and panko crumbs.
Stuff each jalapeno half with antipasto mixture.
Bake for 20 minutes, uncovered, or until jalapenos are a soft texture.