berry271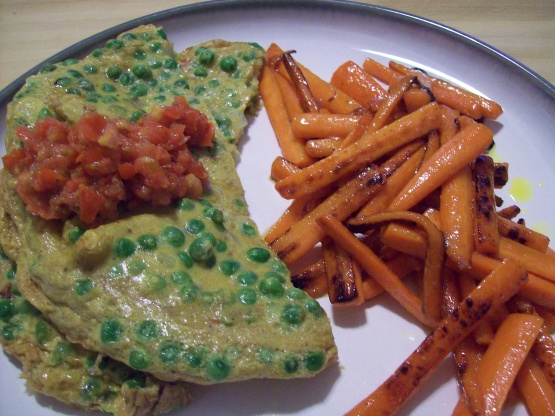 WOWED my hubby with this side dish tonight. (He loathes cooked carrots, but asked me to buy more and make this again tomorrow!) The tablespoon of ginger gives them a bit of a kick and the maple syrup adds a great flavor without being too sweet. To prep the carrots, cut each in 3-inch lengths, then halve each lengthwise. Then put each piece on flat cut side and slice lenghtwise 1/3 inch thick, keeping slices as uniformly in size as possible so they will cook at about the same rate. I would serve this to company anytime, and it is truly restaurant quality. From Fine Cooking.

Also found this in the "2009 Parties edition of the Best Of Fine Cooking." This post shows a more accurate serving size. The recipe in the magazine called for 2 lbs. of carrot to serve 4-6 people, which I thought a bit of overkill! This were simple to put together and pretty tasty. They worked well with the Curried Pea Frittata ( #429730) I served as a main dish.
Combine the maple syrup, lime juice, and 1 Tbs. water in a small dish and set near the stove. Set a shallow serving dish near the stove, too.
In a 10-inch straight-sided sauté pan, heat 1 Tbs. of the butter with the olive oil over medium-high heat. When the butter is melted, add the carrots and season with 3/4 teaspoons salt. Toss with tongs to coat well. Cook, gently tossing occasionally at first and then more frequently, until most of the carrots are well browned and tender when pierced with a fork, 6 to 9 minutes (if the carrots aren't fully tender but look like they're burning, reduce the heat to medium).
Reduce the heat to low, add the remaining 1 Tbs. butter and the ginger and cook, stirring and scraping the bottom of the pan with a heatproof rubber spatula, until the butter has melted and the ginger is fragrant, 15 to 20 seconds. Carefully add the maple syrup mixture and cook, stirring, until the liquid reduces to a glazey consistency that coats the carrots, 15 to 20 seconds.
Immediately transfer the carrots to the serving dish, scraping the pan with the spatula to get all of the gingery sauce. Let sit for a few minutes and then serve warm.