Gingery Marinated Chickpeas
Redsie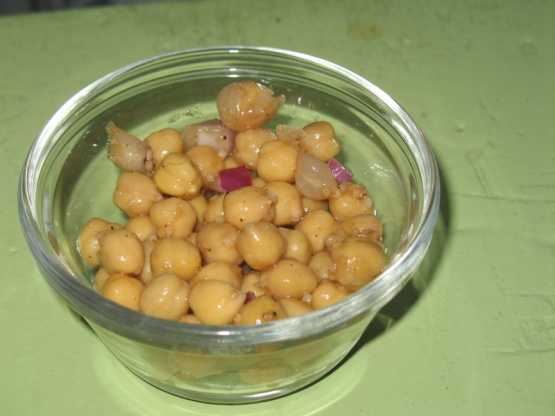 This is best when made several days before eaten. Put on top of salad greens, or on mixed with hot rice. You may use canned chick peas for this. I got this from an old notebook which I had written recipes in a long time ago. I suspect it comes from Moosewood cookbook. Prep time does not include cooking of chickpeas.

Went well and perfectly I thought with a Middle Eastern-themed dinner tonight. I used red onion and scallions for color. However herbs like cilantro, parsley, basil or oregano would work, too. I didn't have time to marinate the salad for more than a few hours but it was good and I can only imagine it will taste even better tomorrow what little is remaining. Thank you! Reviewed for Veg Tag/July.
Rinse and drain completely cooked chickpeas.
Combine everything, mix well, cover tightly and let marinate.(will last for up to 2 months).
Stir from the bottom occasionally during marinating.
Makes about 5 cups. Enjoy!