PaulaG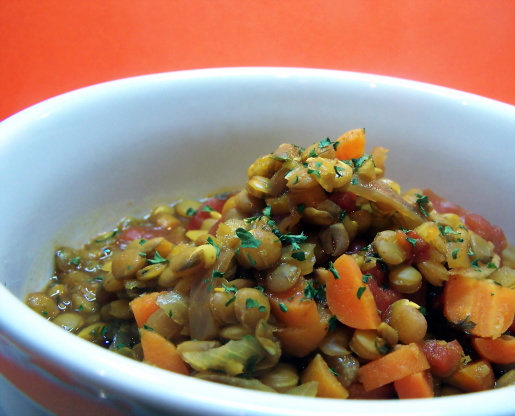 I don't remember where I got this recipe but it's good and healthy! If you enjoy a stronger flavor feel free to increase the garlic, ginger and spices. I usually do in all recipes I make but I hadn't made this in awhile so I posted the original.

Top Review by Maggie
Great flavor! I did add more of the garlic, curry powder and ginger as others suggested, and I also needed to add more broth simply because it started getting dry before the lentils were done. At that point, instead of chopping more garlic and ginger, I just added a little garlic powder and powdered ginger, and it still tasted great. Thank you for sharing this!
Heat oil in a large saucepan over medium heat.
Add carrot and onion; cover and cook 3 minutes or until softened.
Stir in ginger and garlic; cook 1 minute. Add curry, salt and pepper; cook 30 seconds.
Stir in diluted broth and lentils; bring to a boil.
Reduce heat; simmer covered, 20 to 25 minutes or until lentils are tender. Stir in tomatoes; cover and simmer 5 minutes.
Divide soup evenly among 4 bowls.