Gingery Fried Chicken Appetizer
Parsley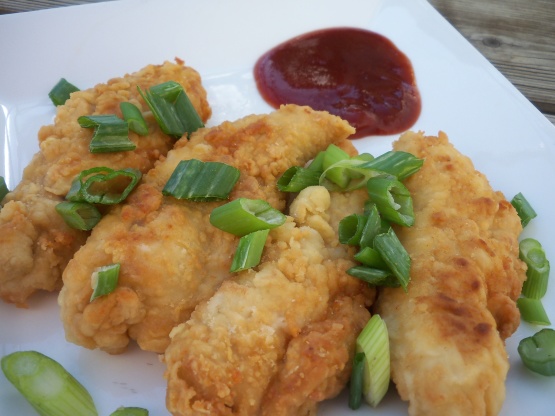 Every once in awhile one has to indulge that craving for fried...From Quick and Simple magazine, July 2006. The original recipe deep fries the chicken but since I don't own a deep fryer I pan fried the chicken instead. This is great with plum sauce! (I wonder what this would be like with tofu...??)

Thanks for the non alcoholic note CG. I used Apple juice. I was scared because of the ginger I have to say but these were surprisingly good and my 2 year old gobbled them up. Thank you Made for ZWT 6 by fellow Looney SPoon. :)
*NOTE: Substitute 2 tablespoon apple juice or white grape juice for non-alcoholic version.
In a medium sized bowl, combine the wine, ginger and 1/4 teaspoon salt. Add the chicken pieces and toss to coat. Cover chicken and marinate in refrigerator for 2 hours or overnight.
In large bowl, mix together the flour, cornstarch, baking powder and remaining 1/4 teaspoon salt and 3/4 cup water. Stir the marinated chicken into the batter.
Pour some oil to a depth of about 1/4 inch into a deep, heavy frying pan or wok over medium-high heat.
Add chicken, a few pieces at a time; do not crowd. Cook the meat until crisp and brown, approximately 3-4 minutes each side.
Place the cooked chicken on a tray lined with a paper towel and drain. Transfer to serving platter and garnish with green onion slices.
Serve hot or at room temperature.