duonyte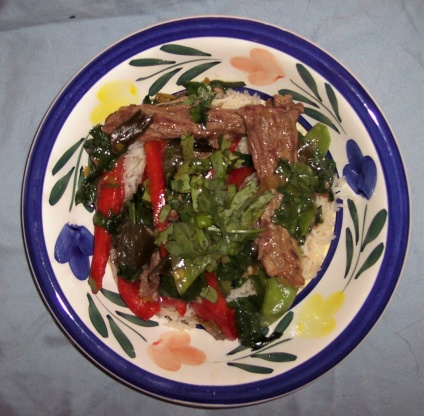 Sometimes I add thawed frozen bell peppers with the other vegetables for a different flavor.

My problem eater scarfed this up and asked for more, and I've rated it on that basis. For me, this was a little bland. I used skirt steak, which was excellent and in my area less than half the price of flank steak. I think next time I'll wait to put the green onion tops until the very end, and also add a little more fresh ginger, possibly some red pepper flakes. Also, I have a small crockpot and this amount barely filled it up halfway. It was quite tender after 4 1/2 hrs. If you have a larger crockpot, you will really want to watch the time. The bean sprouts did not look great, so I subbed spinach, which worked beautifully. Definitely a recipe worth playing around with again.
Thinly slice flank steak diagonally across the grain.
In a slow cooker, combine steak, consomme, soy sauce, ginger, onions, and garlic.
Cover and cook on LOW 5-6 hours or until steak is tender.
Turn control to HIGH.
Dissolve cornstarch in water in a small bowl and stir into cooker.
Cover and cook on HIGH 10-15 minutes or until thickened.
During the last 5 minutes, drop in vegetables and re-cover.
Serve over rice.