Gingersnaps Like No Other (Find the Secret Ingredient!)
Bayhill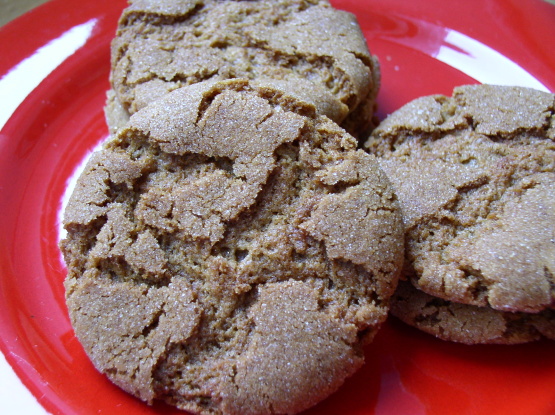 These are the ultimate Gingersnap cookie, thanks to the lemon juice. Snappy and sweety and chewy--all in one little cookie. Rolled in sugar, cracked top, loaded with flavor. Take 'em to the fair--you'll win a BLUE RIBBON!--cuz they turn out perfectly EVERY time!

These biscuits were good, I used margarine instead of shortening, and half treacle half golden syrup as I didn't quite have enough. I added a bit more flour as the dough didn't seem quite thick enough, I thought because of the butter. They didn't really "snap"- they were crunchy around the edge but soft in the middle, I think if I'd cooked them a bit longer they would have crunched up. I'll definitely cook them again! (plus, my husband LOVED them!). Edited to add- I had these the next day and they were definitely crispy! Fantastic biscuits- I'm sorry I reviewed them so soon!
Preheat oven to 350.
Cream shortening and sugar; add eggs and molasses, mixing well.
Add dry ingredients and continue mixing. Dough should form a ball.
Cover bowl with plastic and pop in the fridge for 20-30 minutes until dough is pliable.
Form dough into 1-inch balls; roll in EXTRA white sugar (you CAN skip this step, but why would you want to?).
Place on UNgreased cookie sheet, about two inches apart. They will spread out, so you don't need to press them down.
Bake 12-13 minutes until top is crackly. Cool on rack, then store in covered container.
During humid weather: store in tightly sealed container or they will get VERY limp and bedraggled.