Pamela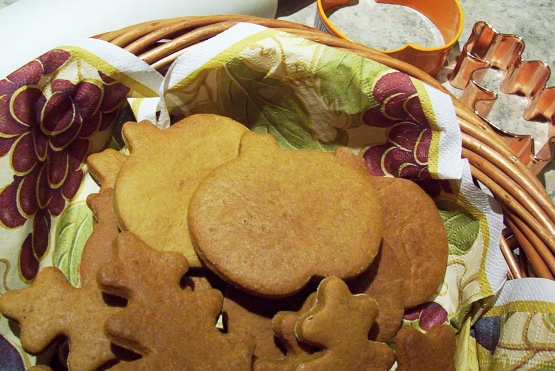 I have been having a real craving for gingersnaps lately. I made five batches for Christmas, and I am still in the mood for them - they are just sooo good. One of my friends said these were the best gingersnaps she had ever had. How 'bout that, eh? NOTE: it is important to use pastry flour for these cookies, otherwise the dough will be strange and unworkable. I tried a batch using supposedly "all-purpose" whole wheat flour (but it was really formulated for bread) and ended up throwing out the dough because it just didn't work. You can use all whole wheat flour, or all white flour, just so long as it is soft.

Top Review by Pamela
Delicious! I love to bake with my kids and it is one of the may TV free activities that we do often. I was about to bake some cookies and realized that I was out of eggs! I did and egg-free search and found this great recipe! I didn't roll these out but rather rolled them into balls and then rolled them in white sugar. The first pan got a little crisp as they did really firm up while cooling, by the second pan I fixed the problem and these cookies were perfection! I look forward to make these again soon--Next time I won't even wait for an egg shortage!-February 28,2004. **edited to add, I made this the right way and cut them into pumpkin and leaf shapes to serve with pumpkin dip recipe#25730. Yummy!
Sift the dry ingredients together in a large bowl.
Warm the molasses, and mix the molasses, oil and water.
If the molasses is not warm enough to dissolve into the water, they can all be warmed a little together- the microwave is fine for this.
Mix the wet ingredients into the dry ingredients.
The dough should be quite stiff, and not particularly sticky.
If it is too soft and sticky, add a little more flour.
Preheat the oven to 350°F.
Roll out the dough to about 1/4" thick, and cut out with cookie cutters.
Place cookies on cookie trays which have been lined with parchment paper, or lightly oiled.
Re-roll and cut the scraps, until the dough is gone.
Bake for 10 to 14 minutes, until lightly browned and set- they will harden up as they cool.