Alia55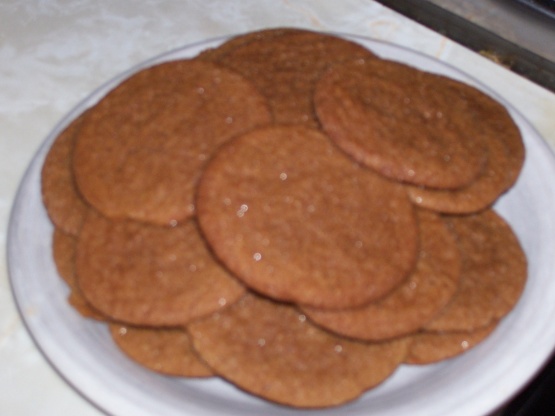 These are a family favorite. I always make them around Thanksgiving and Christmas.
Preheat the oven to 350 degrees F.
Line two baking sheets with parchment paper.
Cream the butter and sugars until light and fluffy.
Add the molasses, egg, and vanilla extract and beat until incorporated.
In a separate bowl whisk together the flour, baking soda, salt, and spices. Add to the butter mixture and mix until well combined.
Cover and chill the batter for about 30 minutes.
Place about 1 cup sugar in a medium sized bowl.
When the dough has chilled sufficiently, roll into 1 inch balls.
Then roll the balls of dough into the sugar, coating them thoroughly.
Place on the baking sheet, spacing about 2 inches apart and, with the bottom of a glass, flatten the cookies slightly.
Bake for about 12 - 15 minutes or until the cookies feel dry and firm on top.
Cool on a wire rack.