Toadflax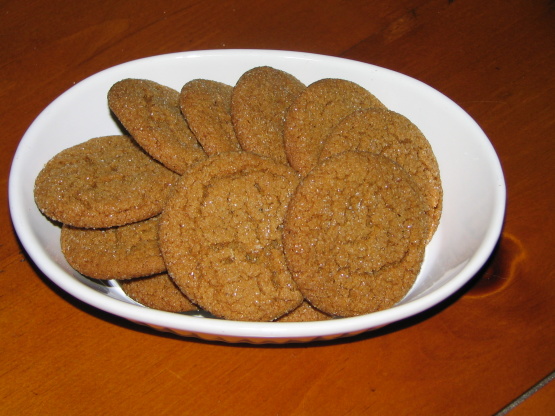 I have made these for years; for awhile I sold baking to earn a little money. People loved these and thought I had some secret recipe - in truth this recipe is in several cookbooks that I own. I didn't see it posted here and hope it isn't a duplication.

I was looking for a gingersnap recipe that would taste like the cookies I used to get as a kid with my school lunch. Not exactly the same, but tasty nonetheless! I did find that the dough needs to be chilled before forming balls, had a heck of time with the first batch, refrigerated for about 30 minutes and went back and completed the next three with no stickiness. My first batch was devoured by me 3 kids before I even put the second batch in! Did some without rolling in sugar and some with... we prefer it with.
Cream margarine and sugar.
Add egg, beat thoroughly.
Add molasses and blend.
In another bowl mix dry ingredients, then add to wet ingredients. Mix to combine.
Roll into small balls (3/4" - 1").
Coat balls in sugar, place on cookie sheet 2 inches apart, bake at 350F for 10-12 minutes.
Yield is approximate, depending on size. Time to make about 10 minutes to prepare dough, and I estimated 10 minutes to roll into balls and coat with sugar.