Kim127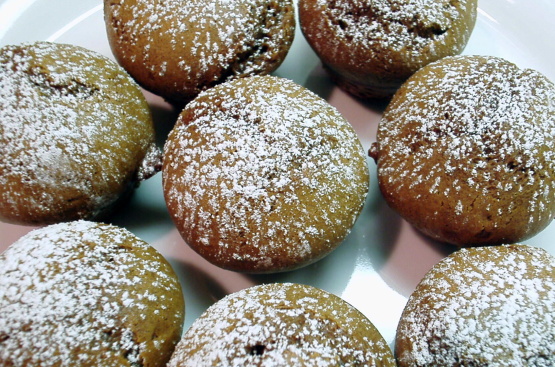 A sweet & spicy little muffin that is great for breakfast, lunch boxes or a snack. The recipe comes from Gooseberry Patch's Country Baking cookbook.

I am just eating one of these little muffins right now. They're great - the lemon really complements it! I did find that muffin mixture was quite dry when I mixed it together - but they worked out fine. I also used light sour cream. Thanks for a great recipe!
Preheat oven to 375 degrees.
In large mixer bowl, combine sugar, brown sugar, molasses, egg, baking soda, cinnamon, ginger, cloves and zest.
Beat at medium speed until well mixed.
Add flour and sour cream; continue beating well.
Spoon batter into greased mini muffin pans, filling cups 3/4 full.
Bake at 375 for 11-14 minutes or until toothpick inserted in center comes out clean.
Let stand 5 minutes then remove from pan.
Sprinkle with powdered sugar.