Gingersnap Crusted Ham With Apricot Mustard Sauce

Directions
Preheat oven to 325°.
To prepare ham, line a broiler pan with foil. Trim fat and rind from ham. Score outside of ham in a diamond pattern. Place ham on prepared pan. Bake at 325° for 1 hour. Remove the ham from oven, and cool slightly. Increase oven temperature to 375°.
Combine 2 tablespoons preserves and 2 tablespoons mustard, stirring with a whisk. Combine the sugar and crumbs. Brush preserves mixture over ham.
Carefully press crumb mixture onto preserves mixture (some crumb mixture will fall onto pan). Bake at 375° for 45 minutes or until a thermometer registers 145°.
Place ham on a platter; let stand 15 minutes before slicing.
To prepare sauce, combine 1 1/2 cups preserves and remaining ingredients in a small saucepan. Bring to a boil; cook 5 minutes. Serve sauce with ham.
Most Helpful
My Buddy Alton makes a ham like this it's really good...my problem is that I can't find a ham with any skin to score. I'd never thought to use gingersnaps as a crust for ham, but it totally works!! A lovely spicy sweetness is added to the ham and it's not over powering at all. I'm not usually a mustard lover, but again it totally worked with this ham! May have to make it again for Christmas morning!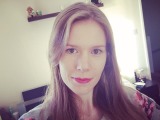 Fantastic! I served this ham as a part of a Swedish Christmas dinner buffet. I ran out of time to make the sauce but served the ham with dishes of different kinds of mustard and the apricot jam, and everyone seemed to enjoy it just the same. I used a 6.5 lb ham and unfortunately, it got a little overcooked, but this recipe is for an 8 lb ham, so if you are using a smaller ham, I would shorten the second cooking period. Overall, this ham had amazing flavor and a beautiful crust. I will definitely make this again.