Gingersnap Crumble Ice Cream Tart
Karen..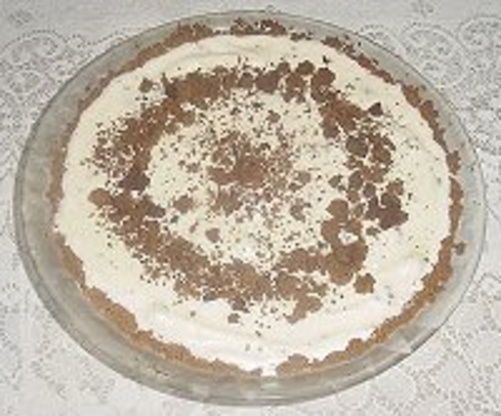 It doesn't get much easier than this! (Cook time includes freeze time.)

Wow, this was just great! Made it with low-fat vanilla frozen yogurt and it was delicious and light after a big dinner tonight. I needed 2 3/4 cups of crumbs and had to take out of the oven early, because the crust and crumbs started to burn a bit...10 minutes probably would have been perfect. After they cooled, it was a quick 5 minutes to put together and then into the freezer it went (right before dinner). By the time dinner was over and coffee was brewed, it was just firm enough to eat! It is a little hard to get out of the pan, so I would suggest dipping the bottom of the pan into hot water for a few seconds before cutting. Thanks so much Ginny for another great recipe :)
118.29

ml butter (1 stick)

473.18-709.77

ml gingersnap crumbs (kinnikinnick.com makes gf gingersnap cookies)

709.78

ml best quality vanilla ice cream
Preheat oven to 350 degrees F.
Melt butter.
Mix butter and crumbs until well blended.
Make a thin crust in a pie plate with 1/2 the crumb mixture.
Spread the other half of the crumb mixture on a baking sheet.
Put both in the preheated oven for about 15 minutes.
Cool the pie shell and crumbs.
When the crumbs are cool enough to handle, break up any large clumps with your fingers.
Soften the ice cream.
Add half of the crumbs to the ice cream.
Spread the ice cream into the pie shell and garnish the top of the pie with the remaining crumbs.
Store in freezer until firm.
Serve with a fruit sauce, if desired.