Gingerly Molasses Christmas Banana Bread

This is a quick, warmly-spiced banana bread that I invented for Christmas 2010.
Directions
Preheat oven to 350 degrees (F).
Mix butter, oil, bananas, sugar, molasses, and egg until smooth.
Sprinkle baking soda & spices over mixture, mix lightly.
Add flour, stir until combined.
Add raisins, stir.
Pour into buttered bread pan.
Sprinkle top with kosher salt.
Bake for one hour.
Remove from pan and cool on rack.
Reviews
Most Helpful
this bread smelled and tasted like christmas. it was a wonderful twist on banana bread. next time I'll probably mix the salt in though as it was too salty on top. made for PAC 2012

I'm sorry but this bread disappointed me; it did smell good cooking in the oven though. The ingredients intrigued me, particularly the molasses and the bananas. The batter was dense and the resulting bread was dense and dry. The cooking time is off as several have noted the edges being burnt. I followed the directions exactly, except I combined all the dry ingredients and sifted them together (Like all recipes call for.). I would do two things. First, I used a 9" pan, I would use a 8" pan and pull it out after 45-50 minutes at 350F. The author says he invented this bread. I should have known the outcome was going to be disappointing as the recipe only calls for 2 tablespoons of butter and one tablespoon of oil. Most other recipes call for more moisture in the form of butter, oil or apple sauce. The other thing that surprises me is that the resulting bread is not sweet at all. I think this is a result of all the allspice used. This is only one loaf and it calls for a full teaspoon of allspice. I will look for another recipe like this which calls for more wet ingredients. One final thought: what is the smell of Christmas? I always thought it was the smell of pine??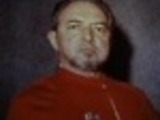 This is so delicious. I made it just as written, except I doubled it to make one regular loaf and two small loaves and I used equal parts cinnamon and cloves because I didn't have any allspice. I barely finished my first slice when I got on here to review it because it it SO good. Definitely tastes like Christmas; tastes more like gingerbread than banana bread, which is just fine with me. I can't decide what I think about the salt on top so next time, I might try mixing it in like other reviewers suggested to see which way I like it better. I'm so excited to make more mini loaves to give people for Christmas. Thanks for posting!!