Parsley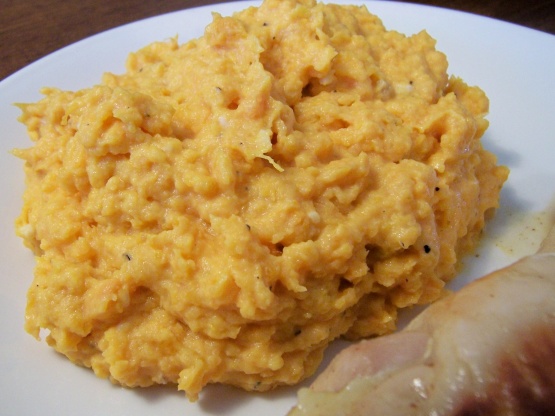 "These creamy potatoes, fragrant with ginger and garlic, are a perfect way to give a special twist to your Thanksgiving table." Recipe courtesy of Ming.com

I made this as part of our Easter Dinner and it was a big hit. It is a keeper. Thank you for sharing it!
Heat a small saucepan over medium heat.
Add 1 tablespoon of the butter and swirl to coat the bottom of the pan.
Add the garlic and ginger and sauté, stirring occasionally until the garlic is brown, 3 to 4 minutes.
Add the cream and reduce by one-third over low heat, about 10 minutes.
Keep warm.
Meanwhile, combine the yams in a large saucepan with enough water to cover them completely.
Bring to the boil over high heat and cook until the yams can be pierced easily with the tip of a knife, 20 to 30 minutes.
Drain and transfer to a food processor.
Add the cream and process until well blended. Add the remaining butter, season with salt and pepper, and puree until smooth.
Transfer the potatoes to a bowl, correct the seasonings, and serve.