Prep 20 mins
Cook 20 mins
We love sweet potatoes at our house, and I probably have a hundred recipes for them.....here is another winner you are sure to enjoy!
Directions
In a skillet, heat butter and oil Stir in remaining ingredients except potatoes Stir and cook 1 min to release flavours Add sweet potatoes wedges; toss to coat Cover, and cook over low heat for 20-30 mins, or until potatoes are tender, stirring occasionally Note: if you prefer your potatoes sweeter, just increase the brown sugar and the honey.
Most Helpful
This is very similar to the recipe we use at our house too - except my recipe (from TOH) also adds 1 tsp cinnamon and the salt is reduced to 1/2 tsp. Oh! one other thing - this really only serves 2 people at our house. Thanks for posting!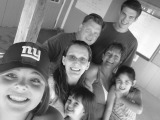 I could have eaten the whole recipe by myself! As it was my boys and I fought over the last piece. Next time I think I will triple the recipe so everyone will have enough. I loved the buttery, gingery, honey taste of these sweet potatoes. Thanks for a great recipe I will use again soon.