awalde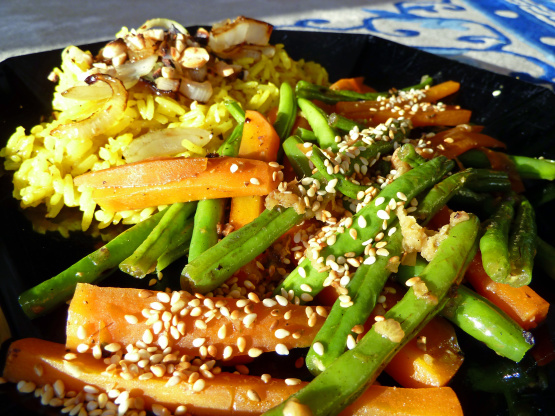 Taken in Coup de Pouce. It's a fast and healthy recipe.

This was so delicious! I could have eaten only green beans for dinner. This would be good on other veggies too, like broccoli. We forgot to put the seeds on but I remembered when getting seconds and it was good both ways. Thank you
In a thick bottom frying pan, grill the sasame seeds at medium heat, shaking it from time to time, for 3 minutes or until they're golden. Set aside.
In a non-stick frying pan with cover, heat the oil at medium heat. Add garlic, ginger, salt and pepper and cook for about 30 seconds or until garlic and ginger begins exit their aroma. Add green beans and cook, stirring, for 2 minutes. Add vegetable stock, cover and cook 6 minutes. Remove the cover and keep on cooking for about 2 minutes or until the liquid is evaporated and green beans are tender but still crisp. Sprinkle with sesame seeds.