Gingered Date Balls - No Cook
Rita1652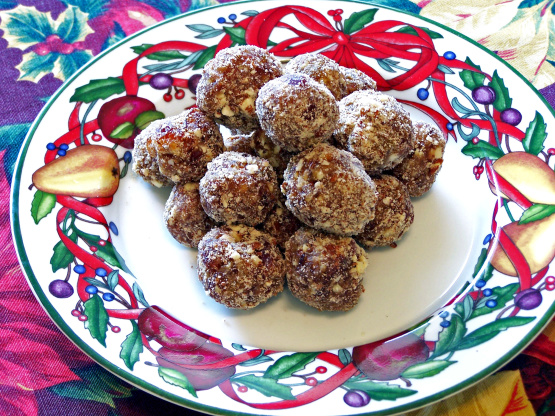 Inspired by Sharon123 from her Honey Almond Date Balls, I added raisins to bring down the price because dates are costly and added ginger to give a refreshing bite to all the sweetness.

Easy and yummy! I had a lot of "rolling" almonds left over, so I threw them back in the food processor and made another batch. Oh no! Looking here at the recipe, I realize I forgot the honey! Oh well, they are good without. I handed them to my 5yo and 2yo sons and called them "Laraballs". They took a bite and both said, "yum!" Thanks! Reviewed for Healthy Choices ABC tag.
Place one half of the almonds and the remaining ingredients in a food processor and pulse until blended.
Roll into balls and then coat in the remaining almonds.