Gingered Brussels Sprouts
teresas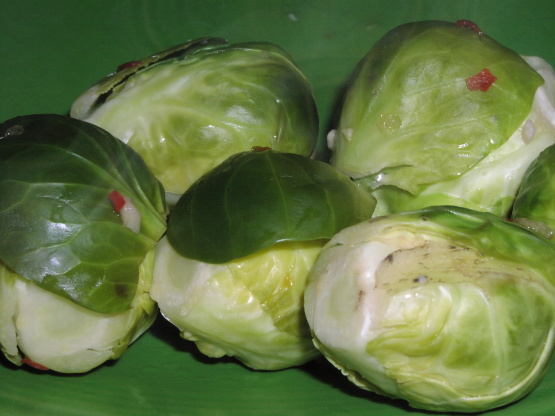 A recent recipe request looking for dishes for 1 or 2 reminded me of an old cookbook dedicated to that topic. Though I have not made this in a while, it was one of my favorite sides. Posting it here so it doesn't get lost and to share it with others. The flavors in this side work quite nicely with a simple roasted or grilled meat or fish.

I loved the flavor of this dish. I used fresh and cooked them for 15 minutes and they still were a bit on the raw side. Next time I will steam the sprouts in a steamer basket using the sauce as the liquid. Adding the sprouts to the liquid the last few minutes of cooking. Thanks for posting. Made for Spring PAC 2009. :)
If you are using fresh brussels sprouts, trim off bottoms and remove any loose or discolored outer leaves. Rinse in warm water and drain.
In a heavy saucepan, combine everything save the sprouts and bring to a boil over medium-high heat. Reduce heat and let the liquid simmer for 2-3 minutes. Add sprouts, cover and cook until the vegetables are crisp-tender. For fresh sprouts, cooking time is about 10 minutes. For frozen, it will be a minute or so less.