SharonChen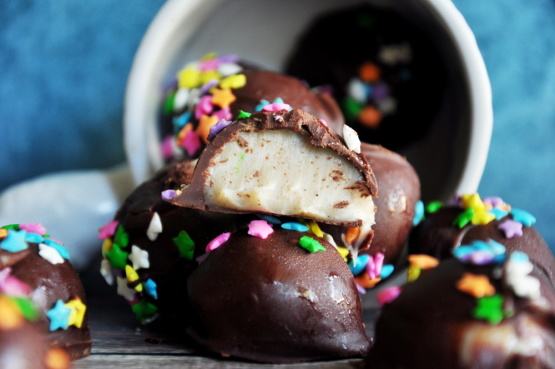 YUM!!! I did cool the mixture overnight, and so glad I did. Then once rolled into balls I put them in the freezer for a while before coating them. I coated in semi-sweet choc, I considered white choc as that is what my husband likes, but in the end I'm glad I didn't as I think it would be too much white choc. Got lots of compliments on these - they were soooo good!
In microwave-safe container or on top of stove, melt the white chocolate chips with cream.
Stir in cinnamon, ginger and cloves.
Pour into shallow pan.
Refrigerate 1-2 hours or overnight until firm but pliable.
Roll into 1-inch balls, chill again until firm. You can do this my sticking them into the freezer. Reroll into a nice ball shape.
Dip into melted candy; roll in sprinkles.
Enjoy!