Gingerbread Sweet Potato Casserole
loof751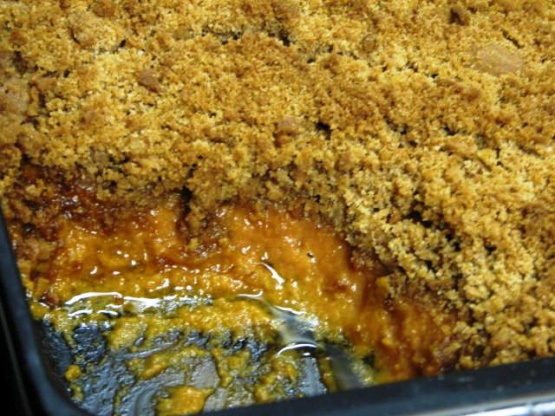 A crisp gingersnap topping earns this Southern sweet potato casserole high marks. Purchase crisp gingersnap cookies rather than the soft variety for making the streusel.

All I can say is WOW! This is a fantastic sweet potato casserole! It smelled so good while cooking too! The streusel topping really sets this dish apart and makes it special. I will be bringing this to our family Thanksgiving dinner from now on - thanks for giving me a new holiday tradition!
Cook sweet potatoes in a Dutch oven in boiling water and cover over medium heat 30 minutes or until tender. Cool; peel and mash potatoes.
Combine mashed sweet potatoes, 1/2 cup brown sugar, and next 4 ingredients in a mixing bowl; beat at medium speed with an electric mixer until smooth. (Or mash with a potato masher until smooth.) Spoon into a greased 2 1/2-quart pr 13"x9" baking dish.
Combine 1/2 cup brown sugar and flour. Cut in 1/4 cup cold butter with a pastry blender until crumbly. Stir in crushed gingersnaps. Sprinkle streusel over sweet potato mixture. Bake, uncovered, at 350F for 25 minutes or until streusel is lightly browned.