Gingerbread Pancakes (Healthy, Whole Wheat, and Low-Fat)
Annacia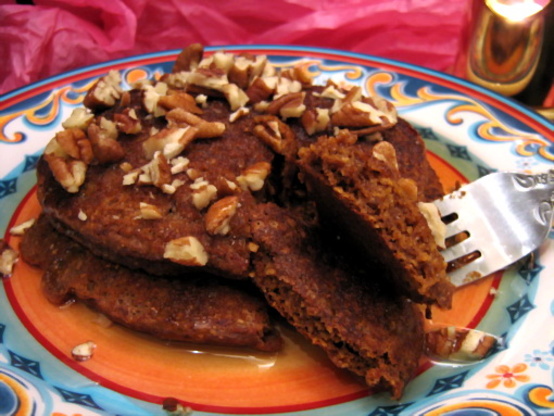 These great little pancakes taste just like christmas! They are packed full of fibre from the ww flour and oat bran, iron from the molasses, and good fat from the pecans! Enjoy!

What a nice way to use oat bran. I found that my pancakes were very thick and hearty. I might try to thin them out a bit more next time with extra milk or maybe use a finer grain bran. Thanks!
Mix together dry ingredients. (You can do this the night before).
In a separate bowl, mix the wet ingredients and brown sugar then add to the dry, mixing until just moist, folding in pecans and cranberries.
If using cranberries, prepare as follows: Thaw if frozen. Cut in halves and place in bowl with sprinkle of white sugar. Toss in sugar then fold into pancake batter with pecans. (This cuts the tartness).
Let stand for five minutes **Don't skip this step.
Heat GREASED griddle to 350 while the pancake batter is standing.
Pour pancake batter onto griddle, and lightly spread outwards with a spatchula. Due to the molasses, this batter can thicken quite a bit.
Flip when bubbles form on top of pancake and edges are dry. Enjoy with maple syrup, caramel sauce, pear sauce, or applesauce.