Gingerbread & Lemon Curd Trifle W/ Blackberry Sauce
John S.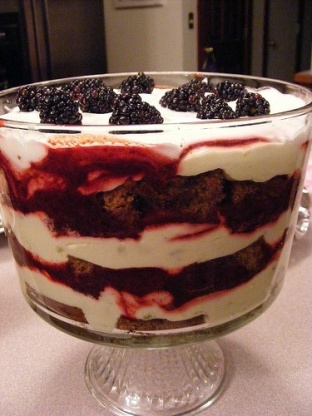 Bobby Flay recipe from www.foodtv.com. I have yet to make this recipe, but I was intrigued by the different flavors, and colours. Hope you like it.
Bobby Flay's trifle is labor intensive, but it's worth it! I made this years ago and it was so fantastic that I've never forgotten the recipe. The gingerbread is incredibly moist and the addition of the candied ginger makes it exceptional...pretty much the best gingerbread I've ever had. I made the lemon curd from scratch, but only because my son needs all natural food and no preservatives; I imagine that would help cut down on the work considerably to use jarred. But the use of whipped cream to cut the tartness is important, especially next to the intense blackberry sauce. As an earlier person mentioned, it's important to strain the seeds from the sauce through a seive. All in all, this is the holiday dessert I make when I want to impress coworkers, friends, and family...using a large glass trifle bowl makes the dessert look as good as it tastes!
Position rack in center of oven and preheat to 350 degrees F.
Spray 1 half-sheet pan with nonstick cooking spray. Line bottom of pan with parchment paper; spray paper.
Sift flour and next 6 ingredients into medium bowl.
Mix in crystallized ginger.
Using an electric mixer, beat butter in large bowl until fluffy.
Beat in brown sugar.
Beat in eggs, 1 at a time.
Gradually beat in molasses, followed by 1 cup boiling water.
Mix in grated lemon peel.
Gradually mix in dry ingredients.
Transfer batter to prepared pan.
Bake until a tester inserted into the center of the cake comes out clean, about 20 to 25 minutes.
Transfer to a rack to cool for 15 minutes.
Run a knife around the pan sides.
Turn out onto a rack and peel off paper. Cool and cut into 1-inch cubes.
Blackberry Sauce:.
Place blackberries, sugar, and salt in a medium saucepan and cook until the berries are soft and the sugar has melted.
Transfer to a blender and blend until smooth.
Pour through a strainer into a bowl.
Stir in the framboise and lemon juice.
Set aside until ready to use.
To assemble:
Using a trifle bowl, start with an even layer of gingerbread cubes, top with 1/3 of the lemon curd mixture, and 1/3 of the blackberry sauce.
Repeat 2 more times.
Top with remaining whipped cream.
Cover and refrigerate for at least 4 hours or overnight before serving.