Gingerbread (For Cookies or a Gingerbread House)
ChefLee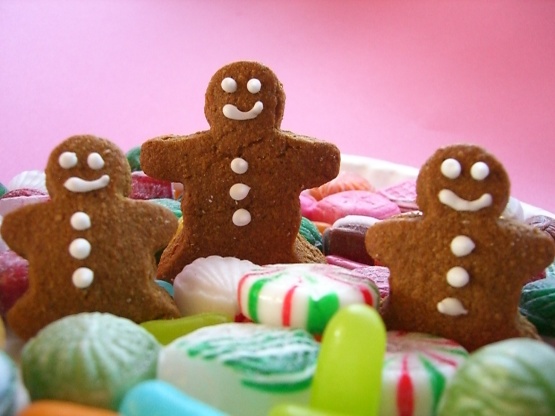 This dough is very easy to work with. We use this gingerbread to make our annual gingerbread houses. One recipe makes 3 fair sized gingerbread houses. This is also works excellent for gingerbread people. From Good Housekeeping Dec 94

Our gingerbread house is about 10 days old now and its still standing strong and making the house smell wonderful! We built a monstrosity, and made this recipe over and over again and every batch came out fabulous. Tip: If the dough seems too stiff to roll out, add 1 tsp water at a time, working the dough thoroughly in between to make sure you aren't adding too much. Conversely, if the dough is too gooey, sprinkle flour generously as you flatten and roll out. I recommend a silicone sheet for rolling, then you cut away what you don't want and transfer the silicone sheet with the dough on it directly to your cookie sheet and bake! Use the sheet again to remove the baked piece to a cooling table. This will save HUGE amounts of frustration, I promise!
In a medium saucepan, heat sugar, molasses, ginger, allspice, cinnamon, and cloves to boiling, stirring occasionally.
Remove from heat; stir in soda (it will foam up).
Stir in margarine till melted.
With a fork, stir in egg, then flour.
On a floured surface, knead dough till mixed. Divide dough in half, wrap half with plastic wrap; set aside.
Roll half the dough, with a rolling pin, slightly thinner than 1/4 inch.
Cut with cutters.
Bake at 325F on a cookie sheet for 12 minutes; cool on a wire rack.
Makes about 3 dozen 3" gingerbread people.
NOTE: We make houses by cutting out our house design (the 2 sides of the roof, two sides, a front and a back of the house) on graph paper, and then placing the graph paper shapes on the dough and cutting the dough shapes out with a knife.