awalde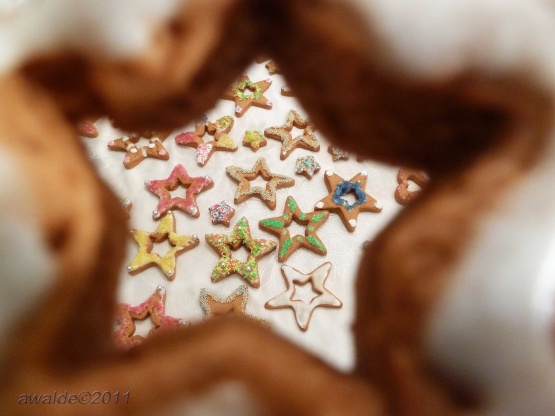 This unusual gingerbread is traditional to Latvia. Very nicely-spiced. Quantity varies depending on how you shape and cut your cookies.

Top Review by awalde
Dear Evelyn, incredible until now there was not any photo on your recipe.
I prepared the double quantity of dough (a huge amount) and this was the best decision. The dough was perfect, not sticky and very easy to shape. I cooked the cookies for 4 ½ minutes.
I wish you all the BEST and a lot of angels to protect you!
Combine molasses, brown sugar, butter and honey in a pot, heat until everything is melted together, but DO NOT SCORCH. If you do, the gingerbread won't hold together. Add the 2 1/2 cups flour and spices to the mixture. Let the mixture cool a bit. Add eggs, then let the mixture cool completely. Add the 2 1/4 cups flour (a little bit more if the dough is sticky when kneading), baking soda and baking powder. Knead until smooth and not sticky. Refrigerate overnight.
Preheat the oven to 400 degrees F.
Roll the dough out quite thin and cut out into cookies shapes. Bake until just golden and lightly brown underneath, about 3 to 5 minutes, depending on your oven. Let cool, then remove from pan.