Pamela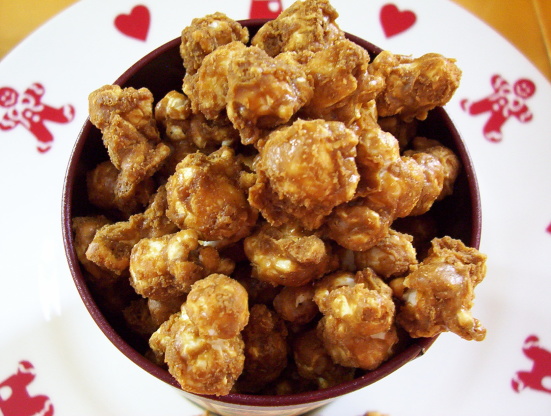 Just a variation on caramel corn...tastes especially good in the fall with a cup of hot cider..

I used a large pot to successfully avoid the issue others had with boil over. I also used one teaspoon of baking soda and one tablespoon of ginger. It is not clear in the recipe, but I divided the popcorn between two 9x13 pans and halved the boiled mixture between both. I strongly suggest someone help stir one pan as you stir the other. This sets pretty fast. The recipe provides plenty of coating and crunch. I'm going to make this again tomorrow and drizzle a very light amount of melted white chocolate or icing on top of the cooled popcorn to improve the presentation. I made two batches. In shared photo: (left) used dark brown sugar and drizzled with white chocolate, (right) followed recipe
Divide popped popcorn equally between 1 lightly buttered 13x9 baking pan.
Combine salt, butter, brown sugar, corn syrup, molasses, ginger and cinnamon in a large heavy saucepan.
Heat over medium heat till mixture comes to a full boil.
Boil for 5 minutes, stirring frequently, remove from heat.
Add baking soda, it will foam up -- stir well.
Pour over popcorn in prepared pans and toss to combine well.
Bake at 250* for one hour, stirring every 15 minutes.till popcorn is crisp --.
Cool completely, and store in an airtight container.