Gingerbread Cake With Brown Sugar Sauce
Prep 15 mins
Cook 35 mins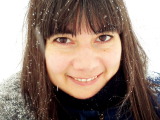 A delightful discovery I made in my Company's Coming 'Lunches' cookbook. The original recipe includes a lemon sauce, but we prefer brown sugar sauce with a generous dollop of whipped cream rather. Or a scoop of vanilla ice cream. Mmm, and the smell... **Update Aug '09: Forget brown sugar sauce! Make a double recipe as a sheet cake (bake for only 20 minutes @ 325) with a double recipe of Caramel Cream Frosting! I don't know why I haven't updated this sooner -- I've been making it this way for at least the last 2 years already!!
Directions
For cake: Beat egg in mixing bowl until frothy. Beat in cooking oil and molasses.
Add sugar, ginger, cloves, cinnamon and salt. Beat slowly to combine.
Dissolve baking soda in boiling water and add to batter. Slowly mix in flour.
Turn into greased 8x8 or 9x9 pan. Bake at 350°F for about 35-40 minutes or until an inserted toothpick comes out clean.
Serve warm with brown sugar sauce. (Freezes well).
For sauce: Mix brown sugar, flour and salt together well in medium saucepan. (This enables water to be mixed in with no lumps).
Stir in water and vanilla. Heat, stirring, over medium heat until sauce boils and thickens (makes about 2 1/2 cups). Serve warm.
Reviews
Most Helpful
Very good cake. Doubled the recipe and served with whipped cream. Everybody loved it.<br/><br/>Didn't make the brown sugar sauce.
Loved the cake! <br/> Hated the sauce, even after adding butter to help with the taste! <br/>The cake can stand on its own without the additive of the sauce!<br/> If you really want to have it warmed up with a bit of vanilla ice cream! Delicious!!!!
This was my first time baking a gingerbread cake. I doubled the all ingredients with the exception of the cinnamon that I increased to 1 1/2 teaspoon because I do love cinnamon. Baked in a 9x13 pan for about 37 minutes at the temperature stated. The cake is wonderful, so moist and a perfect balance of spices. Not too over powering in my opinion. Also made the Caramel Cream frosting! A perfect pairing! Thank you for sharing your recipe!