vrvrvr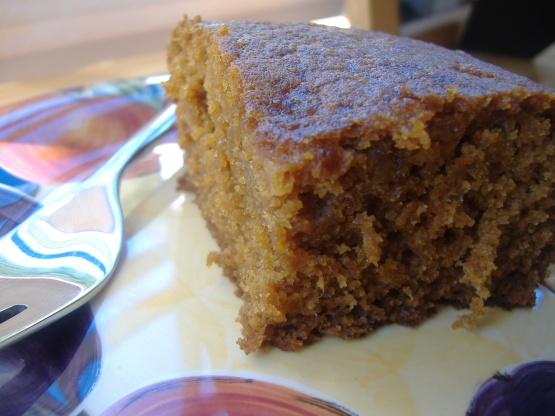 Top Review by vrvrvr
This cake had great flavor and superior texture! Sooo good! I did not have any orange zest, so I substituted lemon zest. I also reduced the amount of fresh grated ginger to 2 T. My grated-ginger-in-a-jar was kind of coarse, so I pureed it with a little bit of applesauce before adding to the batter. The fresh ginger in this cake gives it a unique, full-bodied taste that isn't like regular old gingerbread made with powdered ginger. We really enjoyed this! Thanks.
Beat brown sugar, butter or margarine, and orange rind until smooth, using an electric mixer.
Beat in egg and egg white, beating well after each addition.
Add applesauce, molasses and ginger; mixing until smooth.
Combine flour, baking soda, baking powder and salt. Gradually add to sugar mixture; beating 2 to 3 minutes.
Bake in 8-inch square cake pan at 350° for 40 minutes or until toothpick inserted in centre comes out clean.
Serve warm or cold.